In my last post, I talked about our search for the ideal venue for the #140confMTL as well as the answer to the question: "What is the 140 conference". If you didn't see it, there is a great video there where Jeff explains this himself, on his last visit to Montreal in 2010.
Since then I have had the pleasure of visiting several incredible spots, and I expect a decision to be reached by the end of the month which I look forward to sharing with all of you. In the meantime, as I searched for the perfect location, several ideas were sparked for meetup events.
I contacted Jeff to see if he was available, as well as some of our speakers, and from conversation and a couple of ideas, a meetup was born!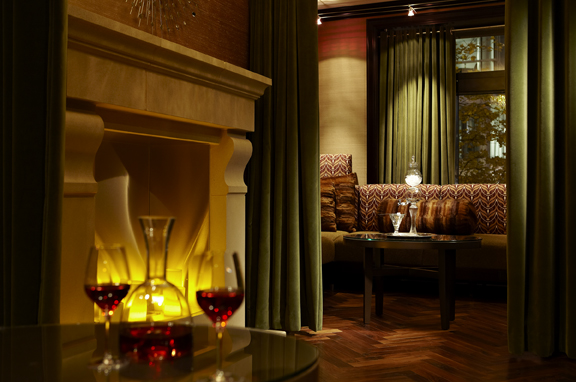 Jeff Pulver will be coming to Montreal on November 30th, and I am pleased to announce that we will also be joined by the inspiring Erica Diamond, @WomenontheFence53 and the engaging and "animated" JC Little, @LittleAnimation50 among others!
Although all the locations I have visited have been very interesting, the most engaging was the Hotel Intercontinental Montreal @ICMontreal23, where their attention to detail, their commitment to spotlighting rich our Montreal culture & heritage in every aspect of the hotel's design won me over. I let them know what we had in mind, and I am so pleased to announce that they were happy to work with us to create our upcoming #140ConfMTL meetup on November 30th! You can sign up for it here!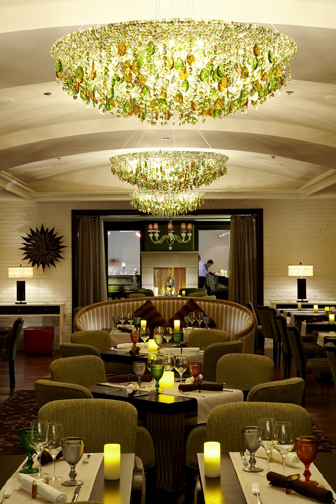 When people put passion and vision into everything they do, you feel it. The Intercontinental does just that. The perfect place for a tweetup to experience Montreal, and learn about the 140 Characters Conference coming to Montreal in May 2012.
Events like this are not possible without sponsors. I am pleased to announce that Ogilvy & Ogilvy Insurance is sponsoring the event alongside the Intercontinental Montreal.
We have also negotiated some wonderful rates on the rooms at the Intercontinental for guests of the #140ConfMTL events – stay tuned for links to your special discount code which we are working on now!
Sponsorship is so important to bring conferences like the #140Conf to us. Let's show our gratitude and send them a tweet @ICMontreal23 and @OgilvyInsurance11 / @Ogilvygivesback11 to show them how important and how appreciated it is when businesses support the community so we can keep putting on great events like this. Behind any great cause, or event – you always find great sponsors. Thanks to them for their support of the #140ConfMTL.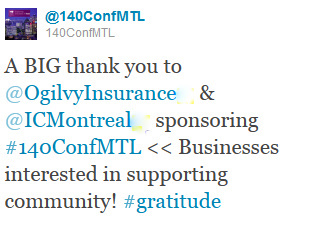 Together we will be coming up with an exciting evening that is sure to please everyone! Hope to see you there!
Our call partner sponsors and speakers will be coming out soon as well as the May conference details. To keep up with the latest news on #140ConfMTL and for updates on events, subscribe to this blog, follow @140ConfMTL14 on Twitter or pick up your tickets for our meetup Nov 30th and come see us in person! It's sure to be an evening to remember.