My New Year looks bright, because of all of you.
As New Years Celebrations kick in around the world, I would like to take a moment and thank you for your support, friendship, and sharing throughout the year. The beauty of these online communities we belong to is the collaboration that happens, the relationships that form and the results that come from these serendipitous encounters.
Can Brands build these relationships?
Brands hear about these "relationships" and set out to build these with their clients, however, this is something else – quite different.
However, it benefits brands, and all of us as individuals as we explore different approaches in life, go through personal challenges, to learn from each other and share new ideas. Indirectly the brands we represent will benefit, and as with anything, the success of a company comes when you put people first.
This being said, all of you have touched my life, and I thank you for everything over the past year, and past several years, none of these amazing accomplishments would be possible without you.
This is a video I made for you. Yes, you.

What is on my horizon for 2014?
Many exciting projects underway, and much to look forward to! On a personal note, I had a very special year, there were challenges, but there were people around me, like you that I am grateful for. It made all the difference and I am so thankful for the year I had.
When we look back at the old year, we might think – "Good – on to a new one". We've all been there. When we hear this or think this, it's with great hope, "next year will be better". On New Year's, we share all our best wishes for each other with the happiest energy.  It's an amazing time for some, and a time to close doors on the past for others – or simply learn to live a different way.
A Few Words on The Hard Times
The New Year can be bitter sweet and although many of us had hard losses – far too many, in the past year, we still move forward. Year after year. This past year I saw people turn loss into ways of helping others, turning tragedy into charity, and this at times that I don't know if we could all get through as well.  Amazing examples of the human spirit like here and this inspiring video here. These are perhaps the most difficult. To see how some people shine through these times, are the most inspiring times of all.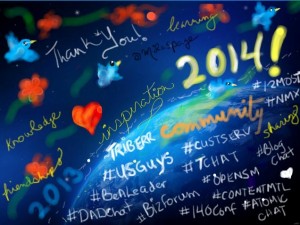 If anything is to be learned, it is perhaps that it is not a perfect year we seek ahead of us as individuals, but to find our selves once again, next year, right here – with all the people we care about.
Health and wellness really above all… and strength to deal with the challenges that face us that we can not change. I wish you all this, for you and all the cherished people in your family and your lives and I tip my hat to the wonderful people we lost, because they also will guide us into the future – from what we have learned from them.
Whether it is a good year, the best year, or a year of challenges – the strongest asset that I believe we all have is each other.
The things I have seen the past several years strengthens this. The online communities I belong to – we belong to – are powerful, and together we have seen and made it through much – good and bad.
In 2014, let's keep doing that. 
I wish you all the very best in the new year. Be good to yourselves, be proud of the work you do and the incredible contributions you make to the global community.
Pass these learned experiences to your staff, your customers, your businesses – for happiness and success.
A final wish for your 2014:
May we all meet back at the turn of the next year, with more stories, in good health and all the wiser and luckier for knowing each other!
What's on your horizon for the new year?
Average rating:
0 reviews