We had an amazing evening at the #140conf Montreal Meetup, I want to thank everyone who came out, tweeted in on the hashtag, and joined us via the Facebook event page to make the evening so memorable. Following presentations by Jeff Pulver and Erica Diamond, we moved our event to the beautiful Osco! restaurant attached to the Sara B. Bar at the Intercontinental Montreal.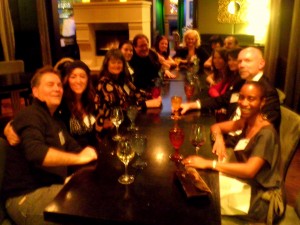 We had a great mix of people, some completely new to social media, and many "pro's" blogging or using social media for business, sharing or personal communication.
It was really interesting as I got feedback from the event afterwards to hear so many people use the word inspiring.
Inspiring because people shared their stories, met in real life, and talked about what they have been doing, sharing who they are, and simply communicating.
Immediately after the event I posted the pictures on Facebook for all of the guests to see. I was touched by so many of the comments, but the most striking was by my friend, and upcoming #140confMTL May 2012 speaker, Montreal Director and Animator, J.C. Little :
At the reception we got to understand the true vision of the #140conf – that it is not about Twitter, it is about connections and what is happening amongst us as we in the population of the world begin to use Social Media to connect and communicate. The conference is about sharing these experiences, from all perspectives.
We are putting out an "unofficial" call for speakers, looking for people and organizations interested in sharing how they've been using Social Media to engage their communities and build relationships. If you, or someone you know would like to be involved please email us at [email protected]
J.C. (@littleanimation) shared her experience, please share yours below and let's keep connecting!
Related articles