The most engaging network? It's a bold statement, but I think if we walk through the important aspects of engagement, you would undeniably agree, this app & network is about everything that works in engaged networks.
Being genuine
Feeling listened to
Keeping open communication
Sharing moments & emotionally driven messages
The catch? It's only for two.
The benefit? Finding time in our increasingly digital worlds, and busy lives to make time for the important people in your life.
More and more we see situations where work has couples separated due to business travel, family commitments, and overall scattered and busy lifestyles. The trend of people having to make time for "Date Night" or other "special times" together is more and more common. So many people blame the increased digital world for this, it is nice to see an app that gives people a chance to reconnect on a one on one basis in that same digital space, when they are apart.
Shouldn't people, especially couples, make that time for each other – isn't an app impersonal??
Every network you have right now is "building relationships". Too many people think that just because you are in a relationship, you wouldn't need an app. Well maybe you don't, however if you look at it as a commitment to spend that special moment in the digital world with the people you love, an app like couple can make that time apart – less "time apart" and more of an added interaction.
A touch point, a quiet place where your attention isn't being drawn by all your Facebook friends, or work text messages and emails. There's nothing in couple but the two of you.
Features:
Couple includes some pretty cool features all geared at staying connected and on top of things with your partner.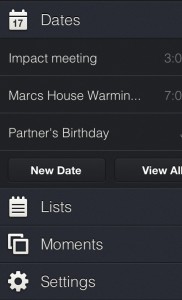 It keeps track of important "dates" and gives you the opportunity to include other "dates" that will be shared time together. You can put in date nights, kids soccer games, special commitments, whatever you like. The point is it keeps it all together for you at a glance.
It allows you to insert & share lists – these can be dream or bucket lists, long term goals, or how about just an updated grocery list. Keep connected to your home based tasks, Couple increases communication in a fun way.
It allows you to share "Moments" – this is when you post a picture into your stream. It's a nice way to share a private photo or fun times when you're hanging out together. Maybe the whole world doesn't want to see you enjoying a cup of coffee in your bathrobe on that business trip, but in Couple, you can share the moment, and keep it to yourselves. Another feature I like is the ability to go into the "moments section" and at a glance see a complete album of all those moments. Photos have a way of reconnecting us when we are feeling isolated or apart, this can work wonders on keeping that connection even when the other person is not around.
Couple also allows for Voice memos/notes to be "spoken" into the stream, incase you aren't someone who likes to text.  It also allows for that added touch of hearing the other person's voice. You don't need to leave it on their work voice mail, or worry about calling them at an inconvenient time (think time zone challenges), you can leave your message in Couple, and when the person can, they will listen.
Secrets to Engaging Success
Engaging is big word in social media, one that is over used, and over preached, but for this situation, I think its worth using one more time because this is what it is all about at the core: Making people feel special, listened to, emotionally moved, entertained. It's every brand's challenge, but what happens when you narrow that down and really make it one on one? Couple has nailed it. The potential for total engagement when the right two people couple up.
At first glace it seems pretty basic, but as you start to use it, you begin to realize there is something very special about this "network".
Couple responds to some major needs in our world today and is ideal for people who want to keep in touch and connected, even when they are apart – whether it be throughout the day, or during business travel.

An End to Potential Communication Nightmares
The best thing is, its safe. Ever had this happen to you?
Between you and me, in my busy social networks and super fast tweeting, texting and broadcasting environment, I have to admit, sending the wrong message to the wrong person – or broadcasting a message intended to my partner in error is always a concern.
How about the possibility of using a business account to accidentally broadcast one of those personal messages. Couple solves that problem right away, and with the password protection option, it also prevents other people looking at your phone from seeing what you have in your Couple "network".
I give Couple an outstanding five start review in my books, they have done a great job at developing the features, it truly is the most enjoyable and engaging social network out there, and it's good for the heart and soul – letting you keep what's important to you, near to you, even when you're far.
Check Couple out here, and let me know what you think!