People often ask me what tools I use for writing or producing online. Tonight I had a delightful time at the McGill Writing Center participating in a round table on the subject of Writing in the Social Media space.If you want to check out my slideshare, I've loaded it up here.
Writing is a creative craft that involves a lot of background work and discipline.
I thought I would share some of the tools I have found helpful in managing larger writing projects, doing research and simply items I use in my day to day. Some of you may have heard of some of these, but I will bet there is at least one little gem in here for everyone. Here are 10 tools to up your game when juggling all the tasks involved with producing content.
Note: Many of these are iPhone based, if you have equivalents or other faves of your own on other operating systems like android, etc, please let me know! I'd love to hear your favorites in the comments.
For Collecting Information, and Taking Notes
Evernote – Evernote is simply a wonderful multi tasking, ultra powerful notebook that allows you to sync from your phone, to your computer, or multiple computers. I strongly recommend that you watch the video on their site to get a true sense of it's capability. My favorite parts are the ease of use, the fact that I can clip things straight from my browser into it, that I can organize and categorize with tags, that I can add audio or photos into my notes. It's also really smart because if you cut form a website and paste into Evernote, it makes reference to the source URL ( how many times are you cutting and pasting, then forget which open tab you were taking from) – no need to have to keep cutting and pasting clips then urls, it will take care of that for you. You can also share notes and items with others, keep them private or make them public. Overall my most used and referenced tool.

SquareSpace – Sync your notes with e-mail, Evernote, Dropbox, Twitter, and more. Its a super easy to use way to whip out a digital notepad on your phone any time you have a quick idea. Once you enter your note you swipe to send it one of your programs. I love this tool for its ease of use. The easier something is to use, the more likely you are to use it. Notes are so important when it comes to the creative process, so give this one a try!
Listly – Listly has some really interesting uses. You can use it to collect lists of articles on certain subjects, document your own articles, collect items and get the community to vote terms up or down the list. Check them out!
Storify – The beauty of Storify is that is has multiple uses, from collecting information from a variety of social sites (by searching keywords, users, or topics) for your own personal use, to actually creating a story around it . Many of the online news sites use Storify, whats interesting to note is that few of them take full advantage of the capability of the tool, they just snip the information and oddly enough it's considered good enough to post on major news sites. Here's what I do with a Storify, as an example. Once created Storify can be left on Storify as a stand alone item, or it can be embedded in your own blog, like I did on this post about engaging community with Storify.
Spundge – Spundge is a mix between Listly and Storify. The difference is that it collects news clips and information via notebooks. This can be particularly interesting for non=profits or people researching a topic in the news. If you are in PR or working with the media, it's a great way to collect all the stories posted by the media on your events, or surrounding your topic of interest. I use it for non profits and media monitoring.
HT Recorder – This is one of my favorites, you can use it to record voice memos, meetings, conferences, presentations and just about anything else audio. It has incredible clarity and produces high quality audio. Don't spend all your time taking notes in an interview, class or conference, hit record and revisit it later.  If you do a presentation you can also use this to record it so you can review how you did later – a great way to learn and improve. Its my most valued tool!
Markerly – Markerly is uber cool, the company is currently shifting its focus, but the widget for WordPress is amazing. Go ahead and try and clip or cut and paste any item from my blog. Once you highlight it and try and copy, Markerly lets me know. This is incredibly valuable to understand what things people are clicking on, sharing, copying etc. It also allows an option for the copier to share the specific clip to Evernote, social networks, etc. I love the emails that give me the stats on the latest shared or copied content. It probably also discourages people from plagiarism. Thanks Markerly, you guys rock!
For Organizing thoughts and Building Greater Projects
8. Mindnode – This is one of the coolest tools for getting your thoughts together or hashing out a concept. It was one of the most useful tools when I outlines my upcoming book on Social Media Policy and has been useful in many projects. Here's a sample of one of my Mind Nodes, as you can tell it makes it easy to just dump all the information out, and come back to build on it as more ideas develop. I have also used it to track progress on projects. When you have 20 or 30 things on the go at a given time, having a tool like this is incredible. Think a map like this looks overwhelming, well you can also get a list view, which brings the individual items into focus, A must have to get your brain on paper!
For developing a writing habit
Streaks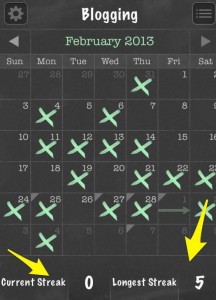 9. Streaks is a really neat tool, once again, very easy to use, and so simple it almost seems ridiculous. Yet once you set it up, you start to realize it really helps you keep on track. Its essentially a calendar, on set up you tell it ow often you want to complete a task, and then every time you do it, you just put an X on the calendar. Here's my blogging calendar for February. You'll notice there are some tiny tabs on some of those dates, that's because if you want to insert notes on the "X" you can. You can then expand your lists with the pull down menu to see what you had to say about the accomplishment on the certain day.
If you're having a hard time committing to blogging or finding time, Streaks is a fun way to kind of keep track, and give you a push if you need it.
10. Oh Life
Oh Life is a whole different story. If you're already blogging, then this may not be that useful. Although, after having used it now for over a year, I have to say it's really cool to see the updates which include random snapshots of what you did on random dates in the past. And I do enjoy the friendly email that asks me how my day was every day.
I explain why I recommend it when you're trying to get into the habit of blogging in this post – in essence its private, no one sees it, its easy, and it triggers you to talk about your day every day. If you want a safe environment to do some writing hassle free, this is fantastic. Sometimes I just post a picture, other times I do a whole write up of my day. Check it out for some fun, and a safe place to start getting into the habit of daily writing. The more you write, the better you will get!
Those are some of my favorite tools for writing, I have a whole list of other tools for photography and other tasks and I will share them in a post coming soon!
Do you use apps or certain platforms to increase your productivity, do you already use some of these?
What makes you ultra efficient?
I would love to know!