Its time for a new age and a new approach.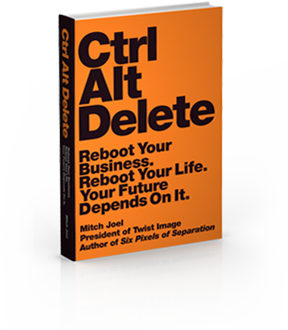 Business "as usual" exists no more. As business owners, executives and upcoming professionals look to make sense of the current environment, Mitch Joel's latest book could not come at a better time. Ctrl Alt Delete reviews the essential aspects of what businesses must focus on to succeed and excel through this transitional time which he labels "purgatory".
Mitch provides a valuable introspective that will benefit anyone, but perhaps the audience who will benefit most are those CEO's and business leaders who are struggling with reservations about online investment, or those who do not "get it" at all.
This is not a book about social media, Facebook and Twitter. It's about real business concerns. The stuff in the trenches, the stuff that produces profit and dollars. It's serious.
At a time where the next steps seem unclear to many this book puts forth compelling examples and clarifies concepts as to why focus must shift for business to survive.
Mitch Joel is an author, podcaster and President of Twist Image – one of the largest independent Digital Marketing agencies in North America. He is known as a marketing and communications visionary, interactive expert and community leader. When I heard about his upcoming book, I expected to delve into Mitch's brilliant marketing mind, but the book was far richer and focused on the essential mindset shifts required for business leaders to succeed in our evolving "business-scape". This is not a book about marketing, this is a book about success, about adapting and understanding what it takes to serve the modern consumer. It is well suited to entrepreneurs, professionals, business owners and anyone looking to strengthen their business to respond to the needs of consumers in this ultra connected time.
Utilitarian Marketing is Sexy
Everyone wants to know what the next big thing will be. When it comes to marketing, Mitch discusses the need for businesses to embrace a "kind" culture and focus energy on looking for ways to enhance their consumers lives through their marketing efforts: give them something they need. In the video below, filmed during his presentation at 140 Montreal in May 2012, Mitch highlights one of the stories found in the book. It supports a key concept that he presents as Utilitarian Marketing.
If businesses can find ways to make their customers lives easier, remove the friction from their experiences, while keeping things as simple as possible, they will succeed and move forward through this "purgatory".  An important take away is the fact that people have moved from multiple screens to "One Screen" and that the majority of the consumers are on mobile, the key strategy needs to be to create something that the consumer must have. Taking advantage of the potential reach to the mobile consumer, companies will be fighting for valuable digital real estate, the app on their consumer's phones.
A key piece of advice: It doesn't have to be complicated.

The book warns people that perhaps too often, businesses have gotten so mixed into things that the levels of complication they have created are what hinder them. The answer: review, revise and keep it simple – do one or two things great. Reboot!

On Leadership & Charting The Path For the Future
Going into the second half of the book, I wasn't sure what to expect, however I was pleasantly surprised. This section addresses a critical area of need in most businesses today: mindshift . As with any strong business approach, Mitch dissects the core of what is at the heart of any business: the individuals working within it. Although the book's basis is in  marketing, it doesn't take long to realize that what is really needed to succeed in today's environment is a complete switch of mindset to what he refers to as a digital first posture. A switch that must take it's roots in the leadership of any organization and extend through to every single player.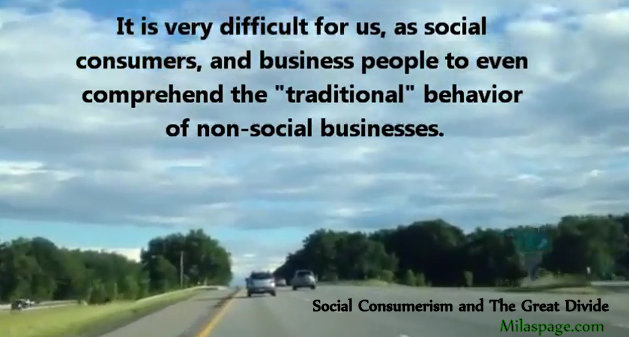 From a personal perspective, having had numerous conversations with many leaders in the community and business owners from across Canada and the US,  Mitch couldn't be more on target.  I've discussed similar concepts in previous posts here and here. We see this challenge every day, people who are resting on the laurels of how business was always done, not realizing that the consumer is changing. Pockets of people who stay away from our technological advancements, leaning on the excuse that "face to face" is the only way to go, are sadly misguided not realizing that indeed there is no substitute for face to face conversation and relationship building, but what the consumer is demanding, and where they are connecting and feeling value is through the little things that help them in their day to day lives.
Utilitarian marketing is not about taking away "relationships" and replacing them with computers, it's completely separate. It is about reaching your consumers where they are, and giving them something they need. Tell me this is not where the core of value will be.
For those still on the fence, and not knowing where to go next, Mitch invites you into a personal dialogue and conversation via Ctrl Alt Delete, he takes the time to share with you many case studies, examples and even personal stories that help switch the reader's perspective to understand what the implications are of the changes we are seeing in society. Clarifying what it will take within organizations to make that jump out of purgatory and into rolling success.
I strongly recommend this book, and look forward to hearing your comments and insights below.
For those of you who are lost, pick this up for direction.
For those of you who work for an organization who do not work on culture and think sales gimmicks or Facebook alone will save the business, pick this up and give it to the CEO.  Not only will they thank you, but you'll assure yourself a better work environment with an innovative culture for years to come.
For those who miss the boat, or who wish to stay in the dark, enjoy the slow ride downwards because while others will reboot, adapt and shine, you'll be left behind and as you look at your cell phone wondering why the lines aren't ringing at your business you may look back and finally realize it's because you chose to look another way.
For more insight from Mitch, you can subscribe to his weekly podcast here or follow his blog here. Ctrl Alt Delete is available on Kindle and through order on Amazon here, pick it up and start rebooting your business and your life. It's time to move into the digital age with some solid leadership and innovation, this book maps a solid path and is a must read.
– Go…now & prosper.
Related articles