Hashtags are used on all social networks now, becoming a critical way to communicate and link information everywhere from Pinterest, to Facebook and Twitter, Hashtags are the key to discovering, communicating and sharing.
Let's have a conversation about hashtags and demystify what its all about and how to use them once and for all. Your business activity and personal activity will become far more efficient as a result.
The Main Problem With Hashtags
People think hashtags are a bunch of nonsense. Too many people see others using hashtags and think it is okay to assign a "#" to any word, phrase or sentiment, and run with it. Although many people do this, it's a mistake to underestimate or avoid hashtags because you think it is just a bunch of hipster jargon.
Let's face it, hashtags are throwing (business) people off.
Hashtag Explanation Made Easy:
A hashtag is a critical way of grouping information together, think of it like a file folder.
If you opened your "filing cabinet" and wanted to find everything about Dogs, you would click on #Dogs. However, the search results might be too large. So, you might then want to create a new hashtag or find one in use that specifies the type of dog, for example #JRT , #JackRussell, or even #Puppy. The cool thing about hashtags is that you can combine them, so if you put all of the above in one tweet, or post on Facebook, you will be indexed in with the related items in all categories for the words you chose.
Learn to Use a Hashtag For Business
First, you need to identify where your posts or subject mater fits in. Chances are there is already a hashtag being used for your area of communication.
Find someone who is already active in your field, and then see what hashtags they are using.
If you see one you like, click on it. A new list will open in your Twitter, or Facebook or Google+ that will only include all posts with the given hashtag.
Look at the other hashtags being used as well.
Create a list for yourself of hashtags that you would be a part of, and start using them.
Tip: If looking for hashtags in your business field is overwhelming at first, try searching for hashtags in something that interests you. Have a favorite author, hobby, or sports team? Try the above in those subject areas. Then as you start to follow how the communication flows , you can start looking in your own field. The primary objective is to start seeing the pattern and organization, as well as strategy behind using hashtags. You can not throw hashtags around without a strategy and expect results.
Why Are Hashtags Important?
The beauty of a hashtag is that it brings you into the communication lines of people you don't know.
When you post without hashtags, you access the people you already know.
VS.
When you post with hashtags, you make your information searchable by anyone
You appear in the stream of the hashtag in question
You meet new people
You find new resources
You discover new opportunities
You help people keep track of your relevant posts
You build an audience and community
How to Use A Hashtag To Stand Out and Cut Through the Clutter
Hashtags also help people sort through a series of posts to zoom in on what is important to them. For example, if you go to my instagram page, you will find photos of soccer, food, scenery, business. Let's say you only care about pictures of my puppy. Well, you can click on the custom hashtag and you will just see the results from the photos I tagged with that. Custom hashtags make it easy for people to get through all the junk out there. Whether it be on one page, or throughout the social networks.
It's all fine to use this for cute things like puppies, but how can you use this for business?
Well, for example, I can create a hashtag for insurance, but what will make it easier for people looking to save money on home insurance is if tag a series of posts #Home #Insurance #savings or #homesavings combined with #insurance. The world is a big place, so I can zoom in on my target audience more by adding a hashtag for the city I serve.
You can do this with anything. It just takes some strategy.  Just make sure that what you are linking as your file folders are relevant and helpful. Make it easy for people to understand at a glance the relevance. Don't try and be cryptic or too fancy, get to the point and start falling into the streams of communication that speak to your target audience.
Starting to see the possibilities?
5 Tips for Using Hashtags
1. Be consistent.
Sometimes you can use a hashtag, and then no one else uses it. So you can get discouraged and think, I won't use this anymore. Don't do that. If your hashtag is well thought out, and you want it to stick keep using it. Everything takes time. Be patient, keep posting items with your hashtag, let people know about your hashtag and what it means. Do not give up.
2. Introduce others to your hashtag by sharing their posts while using your hashtag.
For example, lets say you find an article that is hashtagged and it is in an area that your own readers (or prospective readers) would find interesting
Share the post keeping the original hashtags and originators identity (don't delete the source – thats poor etiquette)
Add on your hashtags.
People who find the article interesting in the original group may also notice the additional hashtags added, and click through to see what's going on there. They may not check out the other hashtags at first, but eventually if they see the hashtags often enough they will investigate. If they like what they find, or want to contribute to those "files" if we can still continue to relate to my file cabinet example, then they may adopt the hashtags. Be consistent, share the hashtag with valuable and relevant information and people will start to join you in your "Hashtag community" When similar hashtags are often referenced together, and this applies for Facebook, Google+ or Twitter.
3. Example of Using a Hashtag for Your Brand and To Reach New Communities
Travel blogger Kerwin Mackenzie uses the hashtag #whereiskerwin to share his adventures around the world. He keeps his hashtag consistent on Twitter, Facebook, and Instgram, so no matter what platform, you know how to find him.
As seen in this twitter post below, he also adds a whole bunch of other hashtags relevant to the post which might interest additional people who don't already know him. When people following these other hashtags see his post in that hashtag stream, they may start following him too. It's a great way to reach new people.
South America, one of the undiscovered continents. Have you visited and checked it out? – https://t.co/Dc5RX2rbKP #Whereiskerwin #SouthAmerica #Peru #Chile #Brazil #Guyana #Argentina #Ecuador #Bolivia #Uruguay #Paraguay #Venezuela #Colombia #Suriname #FrenchGuiana #travel pic.twitter.com/kJZ5L6PPMA

— Kerwin McKenzie (@loyaltytravels) January 22, 2018
4. Hashtags to access and participate in chats and communities
Once you start to understand hashtags and how clicking on a hashtag can bring you to a series of related articles, you will also be able to click through and join in conversation about the articles or other topics. Many organizations and communities are using hashtags to have live conversations, Q&A periods or even consistent 24 chat on a subject. Usually the organization or group will have their own hashtag. Some conversations are scheduled weekly at the same time, and others happen around the clock. Check out this article here for more info on tweet chats.
5. Using hashtags for fun and nonsense may be good for business
In the screen shot here, you see how David's Tea started a conversation hashtagging a picture with #Teapotblowing resulting conversation and other items become linked as others participate. The top post is the last one, where I also link in a new app called Definer, which is also really cool, where you can define new words and phrases, as you want to.
I linked them into it using a hashtag, while still maintaining the original hashtag – expanding the potential reach of the original idea and bringing more people into the conversation. In this same picture you see how another user hashtagged their entry for a teapotblowing contest. Suddenly David's Tea takes their own personalized hashtag and turns it into a movement. If a hashtag is interesting it will generate activity and perhaps a following and new community.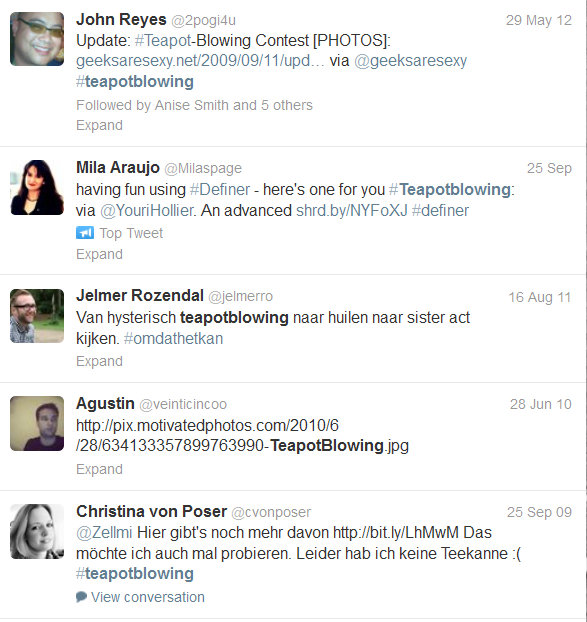 Hashtags look funny but they have strong business value.
Next time you see a hashtag, I hope that having read this article helps take the oddity of it all and makes you realize that there is great opportunity for learning, connecting and reaching new people and communities. The hashtag is pretty cool. What do you think?
How are you using hashtags?
Do you think you are ready to give them a try?